Known as the Lion City, the Garden city, and the Red Dot, Singapore is one of the most popular tourist destinations in South-East Asia. Singapore, being one of the most prominent cities in the world, will provide you with a different kind of experience from the one you could expect in other Asian countries. Whether you're an insatiable foodie, a lover of the arts, or an irrepressible daredevil, Singapore's endless possibilities are certain to fuel the fires of your passion. Here's a peek into what the Lion City has in store for you.
This section is your guide to Singapore; from all the best hotels to restaurants, shopping, nightlife, and attractions – we've got it all!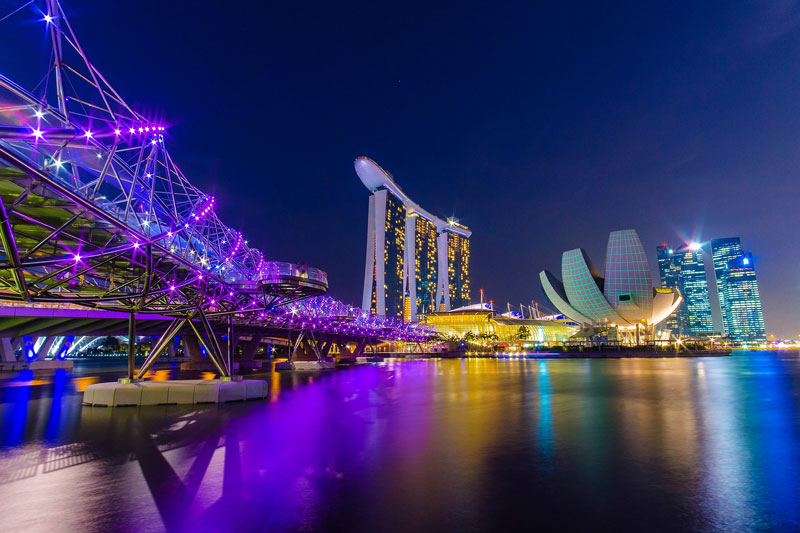 BEST TIME TO VISIT
High Season (November through early January, June, and July): Singapore doesn't have a definable high and low season, though crowds tend to be at their peak during the holidays due to the combination of winter travelers, holiday festivals, and the usual business traffic. Accommodation rates are at their highest, and negotiating any kind of discount is unlikely. Winter also brings a bit more rain as it falls during the Northeast Monson season, though you won't notice a significant difference in the weather no matter what time of year you arrive. The crowds peak again in June and July during the Great Singapore Sale, with hotels and other accommodations filling to capacity. During this time, you may also experience throat and eye irritation from the smoke and haze produced from the clearing fires.
Shoulder Season mid-January through May): There really isn't what would be considered a "shoulder season" in Singapore; however, mid-January through May falls between the high and low "peaks." April, in particular, is a good time to be in Singapore as there are no public holidays during this month and it doesn't fall during monsoon season, though you can expect high heat and humidity year-round.
Low Season(August through October, except mid-September): There is a slight break in the tourist traffic during late summer and early fall, with the exception of mid-September due to the Singapore Grand Prix. Although the Southwest Monsoon arrives around this time, it's less severe than its Northeast counterpart. Temperatures are also slightly higher than what you'll find during the rest of the year. Although there aren't noticeable differences in hotel rates, this is probably your best time to negotiate a price that's a bit more favorable.